22 Apr

Bridger Wilderness, Wind River Range – Feathered Hook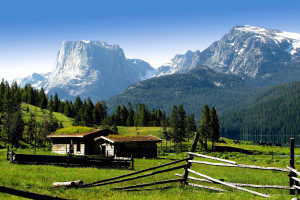 Come and Join us for a trip into the Bridger Wilderness, Wind River Range for a great back country fly fishing adventure. Square top Mountain as well as Gannett peak are within riding distance of our cabins we offer to our clients, Stay in one of  our cabins with all the amenities or stay in one of our rustic off the grid cabins located in this breathtaking mountain Range.
We offer horseback riding pack trips, spot packs and gear drops into the beautiful Bridger Wilderness of the Wind River Range near Pinedale, Wyoming! Great scenery and fishing are abundant, as well as lots of hiking opportunities. Enjoy the beautiful Green River valley below Gannett Peak, the highest peak in Wyoming, and part of the largest glacier system in the lower 48 states.  Square Top Mountain dominates the Upper Green River Valley, towering 3,695′ above the Green River.  Although the north face is a sheer cliff, the mountain can be walked up from other sides.
Pack Trips – Enjoy a beautiful ride on horseback into the Winds and we will set-up camp for you and cook three square meals a day over the camp fire. During the day you have the options to ride to some great fishing and photo opportunities, go on unguided hikes, or simply relax and take in the beauty of the Wind River mountain range while watching the horses graze in the meadows. This is a trip that the whole family will enjoy and always remember.
Spot Packs – Enjoy a horseback ride into the wilderness to your destination and we can pick you up when you're ready to come out. This enables you to do day trip backpacking deep in the Wilderness without having to carrying a heavy load. This trip is ideal for climbers and other backpackers. Gannett Peak is one of your options and is also a popular destination for mountaineers. You may even choose to miss the crowds by using an the alternate route to Gannett Peak, which involves us dropping you off at three forks park, giving you an easy one-day ride.
Backpacking Trips – Looking for a backpacking trip and also a horse riding vacation? If so, you may consider packing a lighter load and combining your trip with a horse riding vacation.  Experience lightweight backpacking to nearby lakes and mountain peaks. Backpacking may also be combined with pack trips, gear drops, spot packs and horseback riding.
Gear Drops – Similar to a spot pack, only instead of riding, you walk in separately.
Our pack trips include 3 meals a day, comfortable lodging, and dependable horses. We encourage you to bring your personal belongings and riding clothes. Although the summer is mostly sunny, we always advise a rain coat on the longer trips.  We will help you pack in everything you need for a great horseback riding vacation.