03 Apr

Spring Creek Fly Fishing Wyoming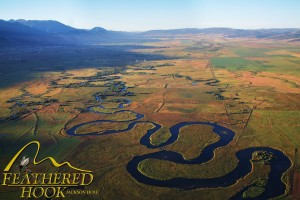 Spring Creek Meadows is open for fly fishing!
Located 65 miles south of Jackson Hole, Feathered Hook offers some excellent spring creek fly fishing on some very productive  water in the Spring Creek Meadows.  With the additional habitat work completed, we are looking foward to putting clients on some improved sections of spring creek. Riffles and pools have been created throughout the property, creating a healthy habitat for our large trout to prosper and grow. Approximately a mile and a half of spring creeks has opened up thanks to the improvements that have been made. Not only is this going to help the trout but every part of the ecosystems that make up the Spring Creek Meadows property.  Book your early spring trip now to enjoy some excellent Spring Creek fly fishing with Feathered Hook.
While the Smith's Fork, Green River, Salt River, Greys River, and Hams Fork are coming into shape, our Spring Creeks will be in great shape and ready to fish.  If you are looking for an early Spring fly fishing adventure, this is the place to come.  There is a wide variety of water to be fished, from still water ponds to small spring creek sections, this place has it all for the beginner or the advanced angler.

This property holds some true trophy trout!  Brown's, Cutthroat, and Brookies cruise throughout the Spring Creek Meadows.  With hatches of calibaetis, PMD's, caddis, Drakes, dry fly fishing is at a premium.   Subsuface flies such as mayfly nymphs, boatman, scuds, sow bugs, and damsels can be very productive as well.

We cater to all levels of fly fishermen and women. 

Feathered Hook

can provide any amount of instruction needed to learn the great sport of fly fishing.  Or, if you are wanting to take your fly fishing to the next level we can provide the information and instruction needed to enhance your skills.

Come out and join Feathered Hook in beautiful Afton, Wyoming and book your next fly fishing adventure today!