04 Jan

Teton Wilderness Pack Trip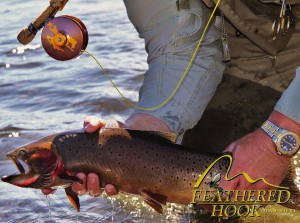 Looking for that private fishing trip away from the rat race? Buckle up! This is the most remote fishing camp in the lower 48 states. Your privacy is important to Feathered Hook!
Imagine yourself standing knee-deep in the Yellowstone or Thorofare Rivers with the unsurpassed beauty of the Teton wilderness surrounding you. Meanwhile, the beauty and serenity of the vast and spectacular scenery will astound you. The sounds of the whispering pines, the alpine waters and the distant sound of coyotes will intoxicate you. The warm glow and radiant heat of open campfire under the night sky filled with stars so bright will mesmerize you…
Feathered Hook pack trips have been using an outfitter who has been in operation since 1950 that's three generations of outfitting. They have years of experience in guiding wilderness trail rides, fishing and sightseeing pack trips. Having made a lifetime of this operation, they have an in-depth knowledge of the area and what it takes to make a memorable trip. Being an Orvis endorsed outfitter, the horses and equipment are top-notch. Safety is always first and the knowledgeable staff will impress you with the expertise of their techniques.
-Once you have reached the campsite you can settle down and relax.
-The experienced crew takes care of all the work.
-You will be served hearty meals with all the mouthwatering trimmings!
What should I pack?
We recommend packing: an Eight-Nine foot fly rod rating a Five-Seven weight line, two or three extra reel spools with floating with sinking head lines attached, several tapered leaders of Seven-12 feet and extra spools of Three-Six tippet material. We also suggest you bring two reels and two rods. The rods should be packed in sturdy tube cases to endure the journey and reels should be packed inside duffel bag. Also important, are Hip or chest waders, as well as creel and fishing vests. Include a pair of forceps, nail clippers, and polarized sun glasses. Remember, you are 24 miles from any store and you should pack enough tackle, film, medications and personal items with this in mind.
Feathered Hook Pack trips are geared for fishing, but are also fantastic sightseeing trips. Don't miss out on viewing the parting waters of the continental divide, or the abundant wildlife such as deer, elk, bear, coyotes, wolves, and birds of prey. We  have a fishing trip to suit your needs, and you can rest assured that you're in the hands of seasoned fishing and packing guides.