Come fish the Big Horn River with us.  
We are now offering drift boat fishing trips down the Big Horn River in Thermopolis, WY.  The Big Horn River is the continuation of the Wind River, after it flows north to Thermopolis through Wind River Canyon. The name changes occur at Wedding of the Waters.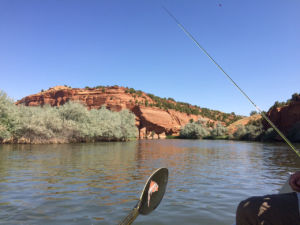 Stay in our cabins at the historic Quien Sabe Ranch and we will provide an all inclusive experience for you.  Meals, lodging and full days of fishing are included in your trip.
We host some of Wyoming's best fishing guides.  These guides are on the waters in Wyoming year round and they can't wait to share their expertise with you.
The few anglers that do know about the fishing revere it for its solitude, large brown, rainbow, and cutthroat trout, and excellent
spring and fall dry-fly fishing.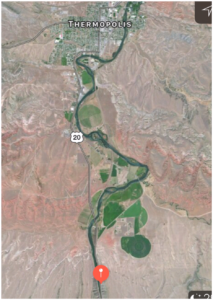 Best Times to Fish the Big Horn River
The spring and early summer months of March through July have the heaviest hatches and usually provide the best dry-fly action. The pre-runoff fishing in April, before the rainbows get on their spawning beds, can be excellent if you get the right weather and witness the river's incredible Baetis hatches. The nymph and streamer fishing is always good when the weeds are absent. The fall fishing turns on again in September and can be great until the bitter cold settles in December. The big browns aggressively chase streamers around spawning time in November, and rainbows can be suckers for egg patterns at this time of year.
Hatches and Tactics
The Bighorn is a prolific midge fishery and these tiny insects hatch every month except August. Early spring and late fall are the best months to witness intense hatches. Trout rarely rise to midge adults on this river, but actively take pupae imitations when adults are on the surface. The Disco Midge, Brassie, WD-40, and RS2 are all great patterns for this hatch.
The first important spring mayfly hatch is the Baetis. Called Blue-winged Olives by most Wyoming anglers, these small (#18-20) insects usually start coming off around the end of March or beginning of April. Overcast, miserable days should provide you with memories of incredible surface action.